4 Quick Dalia Recipes to Make in Your Electric Rice Cooker
Dalia, also known by many other names such as Cracked Wheat, Burghul, Lapsi, Bulgar Wheat, Fada and Couscous, is a very healthy and delicious ingredient. It is also very easy to cook making it a favourite for quick healthy meals. You can easily cook it in a pressure cooker or even in your rice cooker. We have dug up some of the best dalia recipes for you to savour.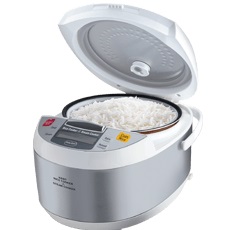 Dalia Porridge
All you need for this basic recipe is 1 cup of roasted wheat dalia and 3 cups of water. Add both the ingredients to the rice cooker and let it cook for 10-15 minutes. Once the dalia is soft, add milk and dry fruits to it and let it simmer for a few minutes. You can add sugar to sweeten it.
Dalia Pulao
An extremely nutritious and easily digested meal, this pulao is cooked using cooked dalia and lots of vegetables and aromatic spices. Heat 2 tbsp oil in a pan and add a pinch of asafoetida and ½ tsp of cumin seeds to it. Then, add 2-3 finely chopped green chillies, one inch of grated ginger, half a cup each of green peas, grated cauliflower, grated carrots and finely chopped tomatoes. Cook these vegetables on a low flame for a few minutes. Prepare the dalia in the rice cooker as mentioned in the previous recipe. Add the cooked dalia to the mixture with coriander leaves and mix well. Enjoy the pulao with curd or chutney
Dalia Upma
Start by seasoning ¼ tsp of mustard seeds in 1 tsp of oil. Add ½ tsp of urad dal to this and roast till it turns light brown. Add 8-10 curry leaves, one green chilli and ½ inch of finely chopped ginger. Stir for a minute or so, switch off the gas and take the mixture out in a bowl.
Now add ½ a cup of roasted dalia to the rice cooker, 1.5 cups of water, the chopped vegetables (¼ cup each of finely chopped carrots, capsicum, French beans, cauliflower and tomatoes), 1 tbsp of roasted peanuts and the prepared tempering. Add salt to taste. Set the rice cooker for 10 minutes and let the mixture cook. Once cooked, mix well and add coriander for garnishing. Serve hot.
Dalia Moong Dal Khichdi
Highly nutritious, this khichdi is a great meal for everyone from infants to senior citizens. Add 1/3 cup each of roasted dalia and moong dal to your rice cooker along with 3 cups of water, salt to taste and ½ tsp turmeric powder. Let it cook for 10 mins. Delicious khichdi is ready for infants. If you feel that the khichdi is very thick, add some water to it and let it simmer for a few minutes.
Dalia is a very versatile and nutrition-packed ingredient. You can customise all these recipes as per your need. You can adjust the spiciness depending on who you are feeding it to. You can prepare it as a less spicy variation for babies, toddlers and patients, while for kids and adults you can choose to add vegetables and additional spices as per their taste.