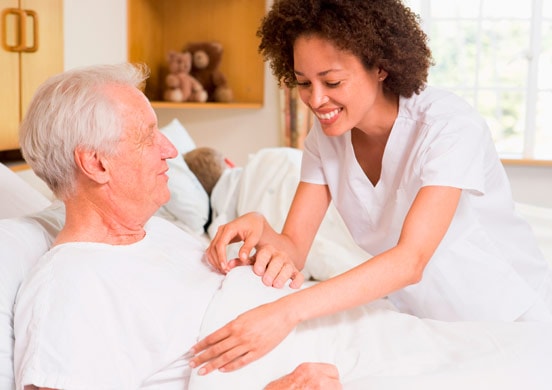 Live-in caregivers work and live in a patient's home. Often these individuals work with elderly and special needs populations.
Live-in caregivers are in more demand than ever. The world's elderly population is multiplying rapidly. It's estimated that world's population is made up of over eight percent, or around 600 million, elderly people; within the next 35 years, it is expected to double. In addition, there are at least 40 million Americans, over the age of five that have some type of disability.
Some live-in caregivers offer non-medical patient support. They can assist with daily living activities like dressing, bathing, preparing meals, toileting, medication reminders, and housekeeping. Some non-medical live-in caregivers are able to help with a catheter or urinary continence administration and administering medication.
Sometimes a patient needs live-in support from a medical caregiver. Private duty nurses also work as live-in caregivers to provide medical support.
There are many different types of live-in care. Some patients need care for a short period of time. Others may need a long-term caregiver. Still, others may need end-of-life care.
Respite care is designed to give an existing caregiver a break. These caregivers might stay for a short period of time while the primary caregiver goes on vacation. On the other hand, a live-in respite caregiver could offer care during the night or while the main caregiver goes to work. Caring for a loved one is stressful. Respites caregivers help alleviate stress and anxiety by offering the main caregiver a chance to rest.
Palliative caregivers focus on illnesses that are long-term, progressive or incurable. They help give patients relief from pain and reduction of stress, quality of life, care management, coordination of care and dignity. When an illness is terminal, palliative care is combined with end-of-life care to help a person expire peacefully and pain free.
Live-in caregivers help patients while allowing them to keep their independence. Because the live-in caregiver resides with the patient, care is always available quickly. Live-in caregivers are in a better position to bond with and develop personal relationships with their clients. This lets them attend to the patient's unique needs and tastes. The cost for a live-in caregiver is calculated on a monthly basis as opposed to and hourly one. This may provide savings for the cost of care.
There are hundreds of agencies that staff live-in caregivers. Some specialize while others offer caregivers for many different types of situations.
Live-in caregivers who work outside of an agency are subject to labor laws.  People seeking to employ a private caregiver should check local laws for requirements.
As the elderly population increases, the need for care also increases. Live-in caregivers are an option to meet that demand. Individuals who wish to use a live-in caregiver have many different types of quality providers from which to choose.